Azalea Orthopedics at
UT Health Medical Center, Pittsburg
Hours
Mon

8:00AM – 5:00PM

Tue

8:00AM – 5:00PM

Wed

8:00AM – 5:00PM

Thu

8:00AM – 5:00PM

Fri

8:00AM – 5:00PM

Sat

Closed

Sun

Closed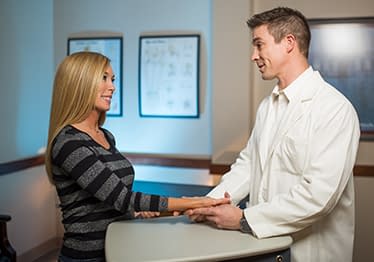 When you schedule a visit at Azalea Orthopedics in Pittsburg, you will experience the difference through our specialty care expertise. In addition to offering clinic in Pittsburg, we also have physicians who can perform surgeries and procedures at UT Health Pittsburg. Our entire team at Azalea Orthopedics is committed to providing you the best care possible. It's our goal to get you feeling better and back to living a comfortable life.
Injuries Successfully
Treated by Our Orthopedists
Our team of orthopedists and orthopedic surgeons have successfully treated numerous injuries related to the shoulders, knees, hips, feet, ankles, hands, elbows and spine as well as sports-related injuries. Some specific injuries our orthopedic doctors treat include:
ACL injuries
Knee pain
Shoulder dislocations
Bursitis
Degenerative conditions of the hip and knee
Sprains, strains, and fractures
Cartilage and ligament tears
Meniscus tears
Tendonitis, or chronic tendon pain
Hand injuries
Pre-arthritis
Tennis elbow
Hip pain
Rotator cuff injuries
If you do not see your specific injury listed, don't worry! The Azalea Orthopedics team at UT Health Pittsburg is composed of sub-specialized orthopedic doctors. To explore more of the injuries we treat, learn about our specialties!
Our Orthopedic Treatment Plan
Our Azalea Orthopedics team believes in a conservative, non-surgical approach when possible. In some instances, our physicians can prescribe physical therapy, immobilization of the injury or non-steroidal, anti-inflammatory medications.
If your doctor deems surgery is necessary to treat your injury, the surgeon will review all of your options along with the risks associated with the procedure. At Azalea Orthopedics, we believe it's important to inform you of your options and involve you in the surgery planning process so we can help you on the road to recovery.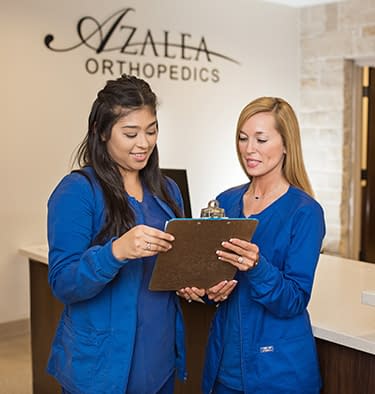 Your Orthopedic Surgeons at UT Health Pittsburg, TX
Our Azalea Orthopedics clinic at UT Health Pittsburg is located at 2701 on Highway 271 in Pittsburg. If you need assistance locating our office, building, parking or you have any other questions regarding your visit, please call (903) 939-7500.
What to Bring to Your
Azalea Orthopedics Appointment
What to bring to your appointment:
Please plan to arrive 15 to 20 minutes before your appointment to complete clinic and insurance forms.
Your photo ID or military ID
A letter of authorization from your insurance carrier if your treatment is covered by Workers' Compensation
Your completed health assessment forms
Previous medical records or arrange to have them transferred prior to your scheduled appointment time
Your insurance card or the name of your carrier; the plan, policy or group number; and the phone number of the insurance company. If covered by a spouse's policy, know your spouse's date of birth and their Social Security number
X-rays, MRIs, EMGs and operative reports, if applicable
A referral form or number if required by your insurance carrier
Name, address and phone number of your referring physician
Schedule Your Appointment at Azalea Orthopedics
at UT Health Pittsburg, TX Today!
Contact Azalea Orthopedics in Pittsburg, TX to schedule an appointment at (903) 939-7500. You can also book an appointment online through our online appointment request form. We can't wait to offer you the care you deserve and help you achieve a more pain-free life. Make your appointment with us today!