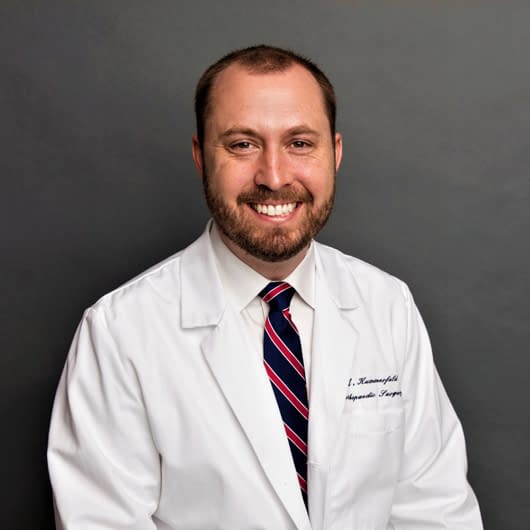 David Kummerfeld, M.D.
Orthopedic Surgery - Shoulder & Elbow

8101 South Broadway, Tyler, Texas 75703

(903)-561-2495
David Kummerfeld, M.D. is a Board Certified Orthopedic Surgeon who specializes in shoulder and elbow arthroscopy/replacement and upper extremity injuries.
After graduating medical school from The University of Texas Medical Branch at Galveston, Dr. Kummerfeld completed his residency in orthopedic surgery at Texas A&M/ Scott and White Memorial Hospital in Temple, TX. Dr. Kummerfeld received advanced training from the world-renowned Kerlan Jobe Orthopedic Clinic in Los Angeles, California, where he studied and performed advanced shoulder and elbow surgeries.
In 2019 and 2020, Dr. Kummerfeld was recognized by receiving the Texas Monthly's Rising Stars Award.

"I am privileged to serve my hometown and the people of East Texas who suffer from shoulder and elbow ailments. Orthopedic surgery has made many advancements; it's rewarding to provide options for people who are suffering." -Dr. Kummerfeld
Our Team
by Location
Browse our locations to see which doctors are available at each facility.