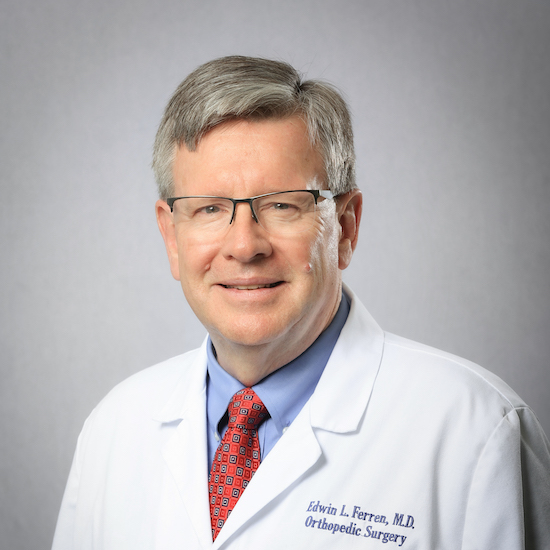 Edwin Ferren, M.D.
Orthopedic Surgeon

3816 N. University Dr., Nacogdoches, Texas

936-560-2990
Also Sees Patients At:

Nacogdoches
Edwin Ferren, M.D., is a Board-Certified orthopedic surgeon specializing in hand, hip, and knee repairs.
After completing his orthopedic residency at The University of Texas Medical Branch in Galveston, Dr. Ferren started his practice in Nacogdoches, Texas. Over the years, he has faithfully served the Nacogdoches community and has been a trusted medical professional in his field. Before enrolling in UTMB, Dr. Ferren graduated from Duke University School of Medicine and fulfilled his undergraduate requirements from Davidson College in Davidson, North Carolina.
"During my career, I've always focused on working with my patients to create the best plan of care. Often non-surgical solutions are the answer, but sometimes surgery is required. It's my responsibility to present my patients with all of the information and together, we can make the best decision for each individual. My goal is to identify my patient's issue and find solutions to return them to their pre-injury condition."
In his free time, Dr. Ferren enjoys spending time with his family, playing golf, and traveling.
Our Team
by Location
Browse our locations to see which doctors are available at each facility.