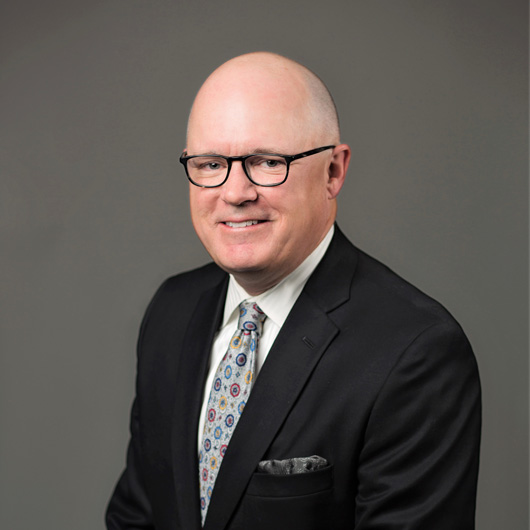 Michael E. Russell II, M.D.
Orthopedic Surgery - Spine & Neck

3414 Golden Road, Tyler, Texas 75701 (Spine Center)

(903) 939-7766
Michael E. Russell, II M.D. is board certified, American Board of Orthopedic Surgery. Dr. Russell specializes in the treatment of spine injury, deformity, and degeneration. His interests include decompression for lumbar spinal stenosis and cervical spine surgery.
Dr. Russell specializes in all types of spinal surgery and previously has been named one of the "Best Spine Specialists in America" by Becker's Orthopedic & Spine Review.  Additionally, he has been recognized as a Texas Monthly Super Doctor from 2016 – 2022. 
Dr. Russell is the past president of Physician Hospitals of America, a national trade organization representing physician-owned hospitals.  He is a founder and past board chairman of Texas Spine & Joint Hospital.  Dr. Russell holds hospital privileges at Baylor Scott & White Texas Spine & Joint Hospital, Mother Frances Hospital and UT Health East Texas.
"Chronic back pain, loss of flexibility and mobility—this is the high price my patients pay every day. For many of them, spine surgery comes at the end of many years of treatments and medicine. But there is good news here—new surgical treatments can have dramatic results. It's a great thing to be able to help restore function and reduce pain."
Dr. Russell attended medical school and completed his orthopedic training at the University of Texas Southwestern Medical School in Dallas following the completion of his undergraduate degree in Chemical Engineering from the University of Texas at Austin. He completed a fellowship in spine surgery at the Carolinas Medical Center in Charlotte, N.C. He is a member of the National Association of Spine Surgeons, the American Medical Association, the American Academy of Orthopaedic Surgeons, the Texas Orthopedic Association and the Texas Medical Association.
Dr. Russell is assisted by Forrest Persing, PA.
---
Watch Dr. Russell's KETK East Texas Live interview on the difference between an Orthopedic Spine Surgeon and a Neurosurgeon- September 2023
Watch Dr. Russell's KETK East Texas Live interview on what makes Azalea Orthopedics unique- July 2023
Watch Dr. Russell's KLTV interview about the Azalea Orthopedic exhibit at Discovery Science Place – January 2023
Our Team
by Location
Browse our locations to see which doctors are available at each facility.